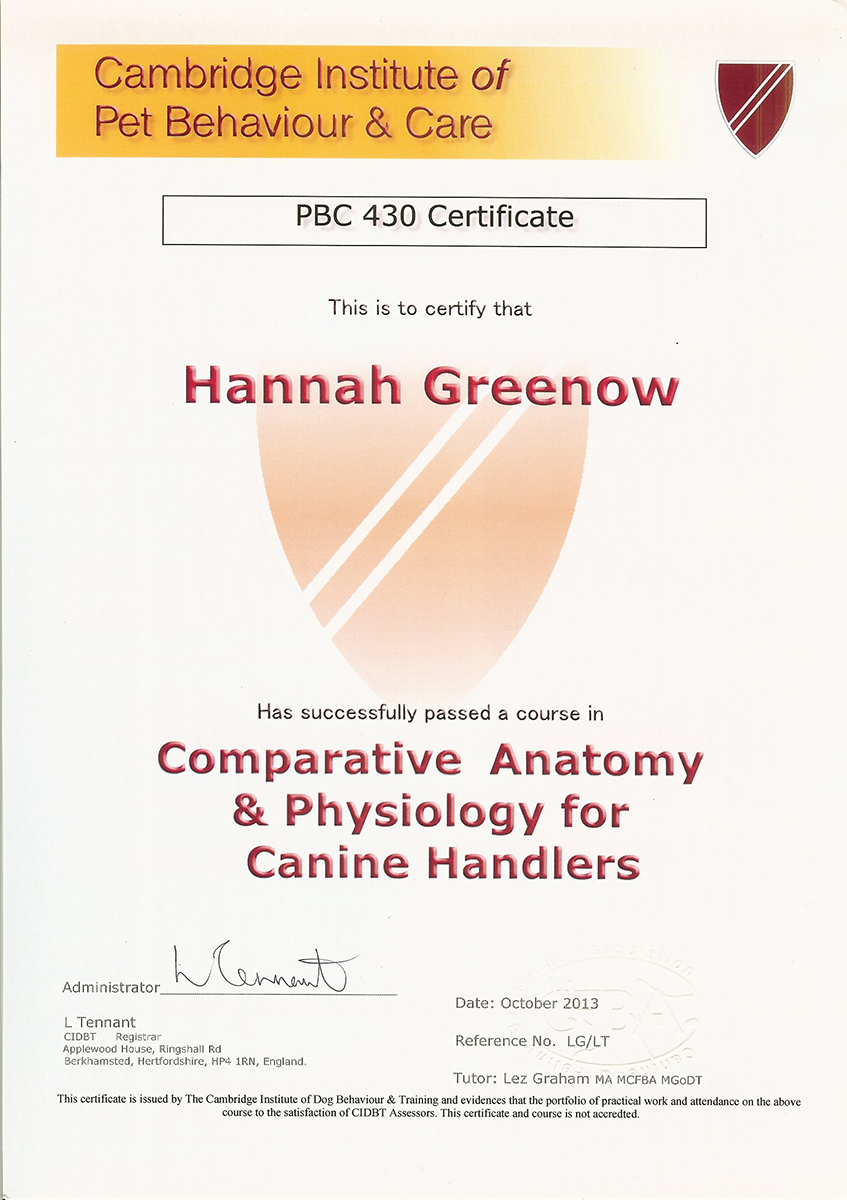 TESTIMONIALS
"I have been meaning to say for ages that very rarely does a day go by without me thinking about you and how brilliantly you trained Inca. She is a joy to be around and so well behaved and mellow and I know you have had a hugely positive impact on her."
MARIA WALLACE
"Your training methods certainly had a great success with Zoe. After spending the month of February with you and having never been outside before, you returned her, at age four months, very well behaved and completely obedient. I am sure she will benefit from some follow up with you. Needless to say I can not recommend your services highly enough. Thanks again."
ROBIN WILLIS
"Dear Hannah,
I just thought I should write to you to thank you so much for the care attention and time you have put in with Hugo. As a rescue dog who had been badly treated coupled with fact he was a Pomeranian that are notoriously difficult to train and headstrong even I began to think I had made a mistake. I am delighted to say he is now one of most loving adorable dogs one could possibly have with impeccable manners and obedience. The change has been remarkable and nobody believes it is the same dog, thankfully he still has that cheeky side to him which I love. The tricks you have taught him bring a smile to everyone he meets, what a star he is thanks to your training. Well done on what must have been a huge challenge to you dealing with and training not only Hugo but me too! I am happy now when I travel Hugo is happy to see you and be with you and each time comes back with a new trick! I have no hesitation in recommending you to anyone! Thanks again."
GARRIE RENUCCI
"Kitty is so good now, she listens to me, comes back when I call her, the 'Wait' command is excellent! I use it all the time and it makes my life so much easier!"
NATALIE
"I had two amazing training sessions with Hannah, Skye and Echo responded so well to the training, hopefully they continue getting better. Can't believe Echo tolerated a tube full of children, and Skye tolerated a man sticking his hand right in her face, all after 2 hours of training! Anyone looking to fix behavioral issues in their dogs I highly recommend Hannah!"
JODIE MIHARA
"After moving to London our little pup Tango seemed to be showing signs of stress resulting in excessive barking during our time of absence which started to make us unpopular with the neighbours. We contacted Hannah after recommendation to see if she could help us in any way to solve our problem. After only one session and following her recommendations on the follow-up report, Tango is behaving beautifully and the barking has stopped completely and he seems settled… even my cynical non-believing husband was highly impressed! Thanks Hanna!"
DIANELA VEGA
"I really wanted to thank you so much for all your help with Martha over the months. Honestly I'm so glad to have had you there as I couldn't have done it on my own. It is the best decision I ever made,both getting her and using you, and thanks to those lessons she has been just the perfect dog....most of the time!!"
CAMILLA TEW
I have wanted a dog for five years and I now finally have a beautiful blue whippet, Wilf. Wilf would not have been possible without Canine Needs and Hannah and Sorcha's dedication to helping me find (using Puppy Match), the perfect breed for my lifestyle and then the perfect puppy from a fantastic breeder. Wilf spent almost three weeks with Hannah and Sorcha and I credit them with my well behaved, housetrained, funny, naughty and utterly lovable puppy. Wilf is almost four months now but will be returning to Canine Needs whenever there is the faintest sniff of a problem….but thanks to the early residential training, I am hopeful that there won't be any! I cannot recommend Hannah and Sorcha highly enough, they are professional experts with an excellent bedside manner to calm neurotic new owners.
ALEXANDRA DURNFORD
PARTNERS + FRIENDS